Turkey River Rocks! A Big Success in Clayton County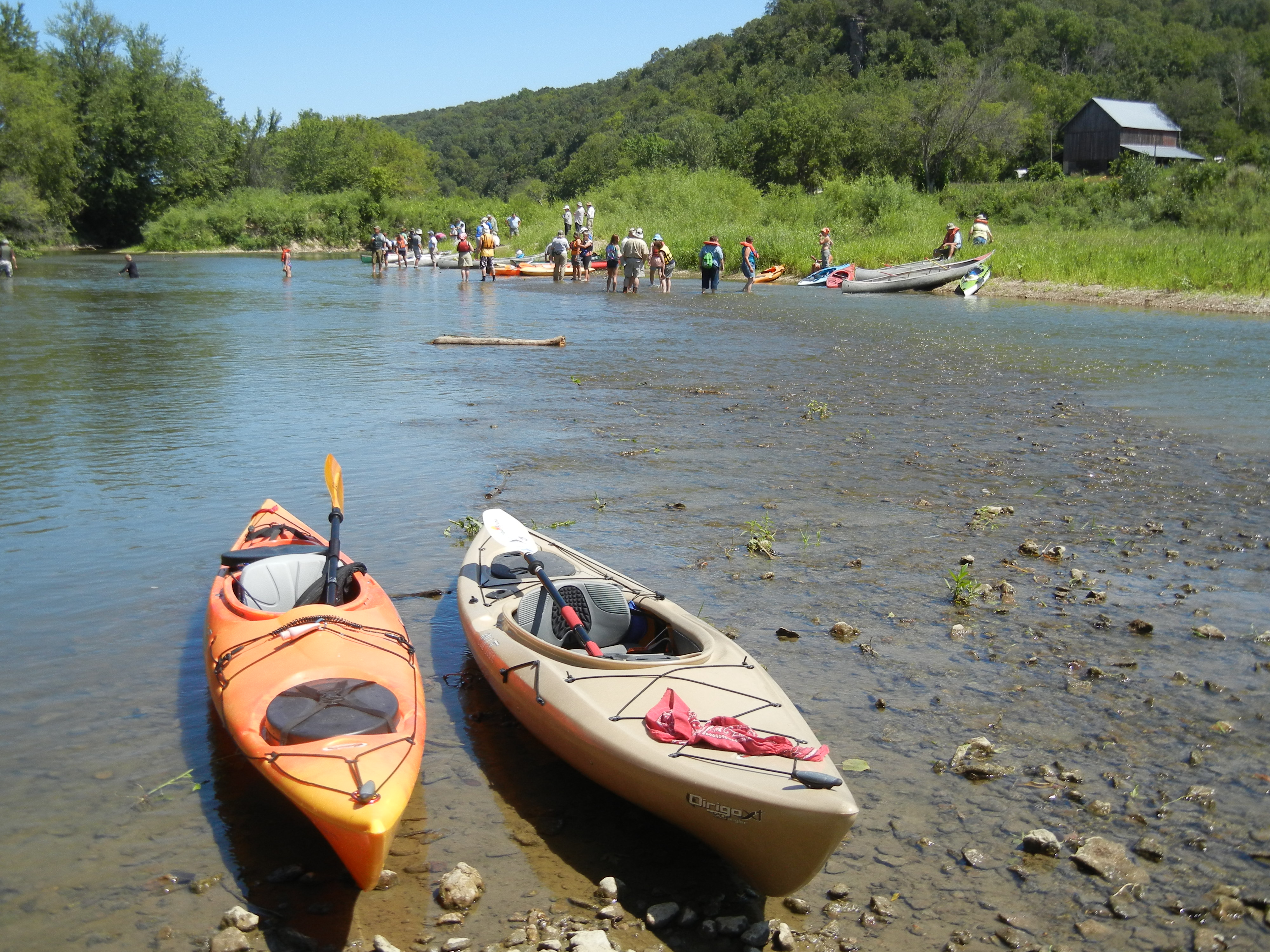 Report by Larry Stone:
More than 60 adults and youth gained a greater appreciation of the Turkey River last Saturday at Turkey River Rocks! sponsored by Iowa Rivers Revival and a great group of local hosts and supporters. IRR board members Jerry Peckumn and Susan Heathcote were part of the crew for this special day of river activities that began in Elkader with a welcome by Elkader's Mayor Robert C. Garms, and ended downstream at the Motor Mill historic site.The morning's program included an overview of efforts to steward the Turkey and integrate the river into area economic development plans. Elkader Main Street Representative Roger Thomas, one of the event's hosts, announced the good news that the river had just been selected for a $330,000 grant through the River Enhancement and Community Attraction and Tourism (RECAT) program to create a whitewater course in Elkader. The whitewater feature will be one component of the new Founders Park, redeveloped in the "buyout" area inundated by Turkey River flooding in 2008.The Turkey's natural and cultural attractions were the centerpiece of the day.  First-time visitors discovered "a clean and scenic river" that has been well cared for by Fayette and Clayton County residents, according to Peckumn.
Peckumn pointed out that IRR had a significant role in securing funding for river enhancement programs, including the RECAT grants, at this year's legislature.
Other presenters Saturday included:
– Brad Crawford, Northeast Iowa RC&D, who talked about the Turkey River Watershed Authority.
– Robin Bostrom, Turkey River Recreational Corridor, who talked about the new 98-mile Turkey River Water Trail and progress in development of a local multi-purpose recreational trail that will eventually link to other regional trails.
– Gary Siegwarth of the Iowa Department of Natural Resources, whose "river barometer" show-and-tell provided learning and entertainment at a sandbar stop.
– At Motor Mill, Iowa writer and historian Larry Stone, also one of the event volunteers, discussed the restoration of the Turkey River bridge at Motor Mill, scheduled for completion late this year. Stone is a member of the Clayton County Conservation Board, which owns the mill and the surrounding 155-acre park.
Thanks to the day's hard-working, dedicated hosts: the Clayton County Conservation Board, the Fayette County Conservation Board, Clayton County Conservation Awareness Network, Main Street Elkader, the Motor Mill Foundation, Northeast Iowa RC&D, the Turkey River Recreational Corridor, the Iowa Department of Natural Resources (DNR) Fisheries, and IRR.Later, participants at Motor Mill applauded an excellent meal of fish and local produce prepared and donated by the Clayton County Conservation Awareness Network, with sweet corn contributed by Roger Thomas. The West Union music group Kindred Minds topped off the event with original and traditional music that included a song about the Turkey River written especially for Turkey River Rocks! A small group of participants stayed Saturday night for a quiet campout at Motor Mill, where at least a few meteors were seen darting across the heavens between bouts of cloud cover.
Sponsors who provided generous additional support were Black Hills Energy, Clayton County Pheasants Forever, the Elkader Development Corporation, Freedom Bank, Bethany Lutheran Church in Elkader, the Elkader Chamber of Commerce and the Iowa DNR Water Trails Program.
Photos by Larry Stone