Turkey River Watershed Community of Monona approved by State for Funding to Reduce Flooding and Improve Water Quality
The City of Monona, a member of the Turkey River Watershed Management Authority, has been approved to move forward with a project to redirect storm water runoff associated with the Monona City Aquatic Center. The funding was secured through a new program related to Iowa's State Revolving Fund (SRF).  Monona applied to SRF in July of 2013 and received final approval in October.  Monona was selected along with 22 other cities in Iowa out of 32 applicants to move forward with projects that will reduce storm water runoff and improve water quality.  It is the only community in the Turkey River Watershed to be approved for the program.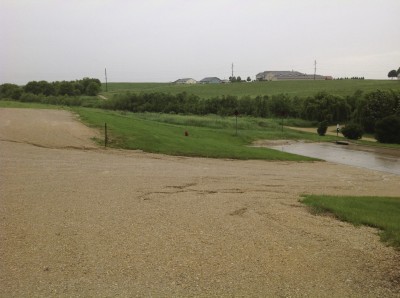 The SRF Construction Loan program allows cities to use a percentage of interest from community infrastructure loans to install best management practices that improve water quality. Permeable pavers will be placed in the aquatic center parking area to allow storm water to be absorbed into the ground rather than run into the nearby tributary of Silver Creek.  Permeable pavers will also replace existing concrete on the sidewalk leading to the aquatic center.  A bio-retention area will be installed around the parking lot to capture any excess runoff.  In addition to environmental benefits, the Monona City Aquatic Center project will improve the aesthetic qualities of the parking lot.  "This project is a great opportunity to implement a clean water initiative that will benefit the Turkey River Watershed as well as significantly improve the parking area at the Family Aquatic Center" according to Dan Canton, City Manager for Monona.
Monona is one of 23 communities, 7 Soil and Water Conservation Districts, and 5 Counties that make up the Turkey River Watershed Management Authority (TRWMA), a group dedicated to improving the vitality of the Turkey River and the surrounding watershed.  Monona and other communities on the TRWMA, such as Elgin, West Union, and Calmar, are proactively taking steps to reduce the impacts of storm water runoff in their respective communities.  All 23 communities on the TRWMA are invited to meet on November 14th to discuss other projects that could be implement independently and collectively to further improve water quality and reduce water quantity after large rainfall events.
For further details regarding the SRF project in Monona or information regarding the TRWMA, visit www.turkeyriver.org or call Ross Evelsizer at Northeast Iowa Resource Conservation and Development at 563-864-7112 or email [email protected].