Turkey River Water Trail Dedicated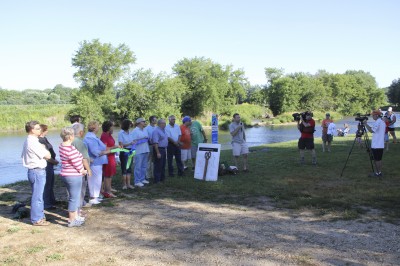 ELGIN — The Turkey River Water Trail, stretching 98 miles from Gouldsburg Park to the Mississippi River, officially opened Wednesday with a dedication ceremony at Gilbertson Park.
The trail, featuring 21 access points and 250 signs, will make one of Iowa's most scenic and popular streams more accessible to the public, said Todd Robertson, river programs outreach coordinator for the Department of Natural Resources.
The dedication ceremony, held in conjunction with the annual Project AWARE river cleanup, attracted hundreds of attendees about evenly divided between AWARE volunteers and local river enthusiasts.
From both groups, "I keep hearing the same thing over and over — what a beautiful river this is," said DNR Water Trails Coordinator John Wenck.
State Rep. Roger Thomas of Elkader, asserting that the Turkey bisects the most beautiful part of Iowa, said the trail holds considerable economic development potential.
"The people love and use this river, and the communities along it are wonderful places to visit," said Nate Hoogeveen, director of DNR river programs.
With the Turkey River dedication, Iowa has more than 700 miles of river accessible to the public in dedicated trails, Wenck said.
Iowa now has 33 river trails either dedicated or under development, he said.
The trail includes 40.9 miles of river in Fayette County and 57.3 miles in Clayton County.
Those counties' conservation departments partnered with the DNR and Northeast Iowa RC&D to plan and fund development of the trail.
Tim Engelhardt, director of the Clayton County Conservation Department, said his experience with Project AWARE volunteers this week, "seeing the excitement in their eyes," reminded him of the treasure Fayette and Clayton County residents have in their backyard.
A new brochure featuring detailed maps of the water trail has been published by Northeast Iowa RC&D. Copies are available at the Gilbertson Nature Center in Elgin and the Osborne Nature Center on Highway 13 north of Elkader. They can be ordered from those outlets, as well as from the RC&D website, www.northeastiowarcd.org