Learning About Fish of the Turkey River Watershed at Big Springs Hatchery
On Friday May 16th, 5th graders from MFL Mar Mac school made their annual visit to the Big Springs Fish Hatchery to learn about fish and do a little fishing of their own.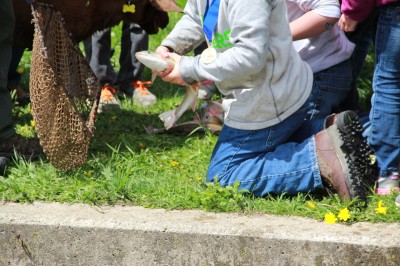 Gary Siegwarth, fisheries biologist with the Iowa DNR, presented many different aspects of fish biology and management. Students learned the importance of fish habitat and water quality in maintaining  and improving the incredible fisheries of the Turkey River Watershed. Just how diverse is the fishery of the Turkey? Eighty four species of fish… yes 8-4… can be found in the Turkey River and its tributaries.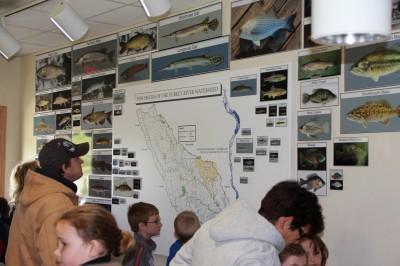 A new display at the hatchery shows the incredible diversity of fish in the watershed from tiny darters to the mighty walleye.  Some of these fish are as colorful as any you could find on a coral reef in the ocean or even your local pet store. Watershed projects that improve the health of the Turkey River and its tributaries ensures that 5th graders (and the many other visitors to the area) can continue to see and experience the fishery.